Home Automation
Here at The Wolf AV, we have designed state-of-the-art home automation systems that allow you to control everything in your home with the touch of a button. Whether you desire to replace multiple remote controllers with a single elegant touch pad, or operate your home systems from any mobile digital device, we will turn your house in a sleek and modern work of art.
With the help of The Wolf AV, you can program multiple lifestyle scenario settings for your home system. If you are out of your house and realize you forgot to turn off a light, you can simply choose an "Away" setting on your mobile device that will remotely turn off all lights, music and TVs as well as adjust your HVAC settings as desired. Not only are you being environment friendly, but you are also cutting down monthly energy costs for your family.
However, that is not all that The Wolf AV's home automation system can do. Access your home security camera feed, check for weather conditions and even adjust the volume on whichever sound systems all for a single control pad. You are truly the master of your own home.
---
Whole-House Audio
Sound is the sense that can breathe life into a memory. Capture crystal clear audio in every room of your house and create new experiences to experience with your family or guests. From your kitchen during a dining party, your back patio during an evening by the pool, or in your living room during a fun family gathering, make whole house audio the home addition that makes lasting memories out of daily moments.
---
Lighting and Shade Control
We all have busy schedules. We all have hectic lifestyles. This should not get in the way of keeping your home beautiful- day and night! At The Wolf AV, we are dedicated to saving you time, energy, and ultimately money. By having an energy-efficient cost-effective lighting system, you are making an investment in your home and reducing the stress in your life. Our advanced lighting control system allows remote access to your lighting system which means you can always be welcomed home by a well-light driveway and a cozy indoors. Not only is this a time-saving investment but also a wise increase in the security of your property. At The Wolf AV, we promise that with our help we can turn your house into a home. Now isn't that relaxing?
As much as we all love summer, Persian rugs really don't. Sun damage is an issue that affects the lives of furnishings all around the country every year. At The Wolf AV, we have a solution! Choose from our wide range of motorized shading to provide protection to your artworks, tables, and couches. And since no one knows your home better than you, now you can program your blinds to open and close at set times, meaning that you can rise with the sun every morning, and set the blinds to close when the midday heat becomes too unbearable.
Contact us today. We have your furnishing's best interests at heart.
---
Home Theater
Movies, sports, and even video games are all brought to life with a custom home theater. Imagine a dedicated room in your home well equipped with a high resolution 4K projector, a screen size 2-3 times the average television, heartpounding 7.1 surround sound speakers, plush leather seating, and just the right lighting to set the mood. That room will become your entertainment oasis.
Whether you're building a new home and can work with our team to design the ultimate theater from the ground up or you have an existing home and a room that you see has the potential to get the ultimate makeover into that one-of-a-kind home theater, our team is the premier choice to create the home theater of your dreams.
Check out our portfolio for examples of home theaters we've installed. Call today to schedule a free consultation.
---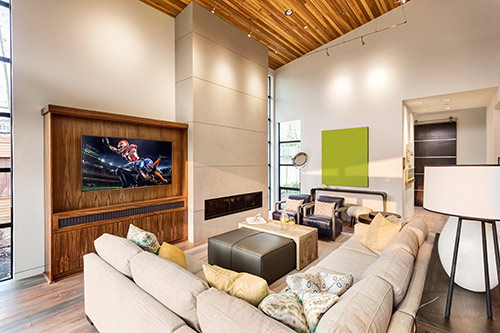 Media Rooms
Every home should have a media room. Most have family rooms but that small flatscreen TV by itself just won't cut it if you're anyone serious about Sunday Football, has a favorite Netflix show, is an action movie nut, or if you want that emersive gaming experience.
We're here to turn that average family room into an exciting media room. We can help professionally install that new 4K TV above the fireplace, install clean flush mount in-wall speakers and even hide all the wiring and equipment in a near by closet using RF controls.
And nobody likes dealing with 5 different remotes. Ask us about our single-remote solution that eliminates that clutter and simplifies your media experience.
---
Outdoor Lighting
Just as your lighting inside the house can all be connected and controlled together, so too can your landscap lighting. With automated photocell daylight sensors to pre-programmed scene scheduling, your landscape lighting doesn't need to be anything you worry about controlling. Instead enjoy not only the aesthetics of uplights and downlights beautifully accenting the exerior of your home but also the natural added security it offers.
Ask us about how you can monitor and control your landscape lighting from anywhere in the world using our smartphone app.
---
Security & Monitoring
Though a security system is the first step to securing your home and possessions, the next is professional, and trustworthy monitoring. With a top of the line alarm system and ironclad security monitoring, you can rest assured that your home, possessions, and family are secured and have emergency services at your ready when you need it most.